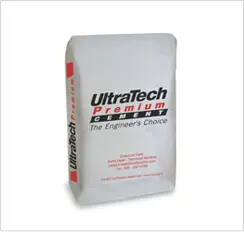 Portland Blast Furnace Slag Cement
UltraTech Premium
UltraTech Premium is a concrete special cement, produced in UltraTech's state-of-the-art manufacturing facilities with carefully selected premium ingredients to deliver to the customer cement that produces both exceptionally strong as well as exceptionally durable concrete.
Quality assurance is an integral part of UltraTech's manufacturing philosophy. The quality attributes of UltraTech Premium are consistently ensured through rigorous application of advanced technology, constant quality monitoring with high precision equipment and adherence to ISO certified systems and procedures.
UltraTech Premium's composition comprising high quality clinker blended with judicious amounts of superior blast furnace slag having high glass content, gypsum devoid of deleterious materials and optimum PSD (Particle Size Distribution) ensures its unsurpassable performance year on year. UltraTech Premium Cement can be used for varied building construction processes which include all types of PCC, masonry and plaster works. UltraTech Premium is also extensively used for mass concrete applications like large foundations, dams, concrete roads among others. It is ideal for RCC in marine and aggressive environments due to its superior resistance to attack of sulphates and chlorides. It can be used for structures below the ground and for those that are in contact with water. UltraTech Premium, with superior 28-day compressive strength, forms an ideal solution for critical applications such as slabs, columns, beams and roofs.
UltraTech Premium is packaged in classy, polypropylene laminated box shaped bags, which are tamper proof and can withstand the toughest of handling.
The product is currently available in West Bengal and Bihar.